Click for larger view

Stop the mess around the cage with the
Mess CatcherTM

The Mess Catcher™ has ceased production!

As some of you know, we sold this item to another company who has since ceased producing the product. We are completely out of all sizes.

See below for suggestions for replacements.
There are two products on this website that may suit your purposes instead of the Mess Catcher™.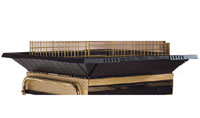 There is the rigid plastic Marraco Cage Skirt that comes with several side panels, four corner pieces and connectors. Obviously some assembly is required, but it is a pretty good "permanent" solution to the problem of the mess around the cage. It comes in sizes to fit just about any cage out there. Assembly instructions are included in the package. Click here for details.

The second item is made of corrugated plastic (the stuff used in making temporary signs), comes with four side pieces that you cut to size, and four corner connectors. A quick, less permanent solution, but also less expensive. Click here for details.